Un autre rec post mastoc rédigé pour la communauté

amour_de_fans
Je ne suis pas sûre que ce soit tout à fait une rec parce que je n'imagine pas que vous soyez passées à côté, disons que c'est plutôt à la fois un chant d'amour, des bouts de réflexion désordonnés et une espèce de tentative de discussion mais dont je n'ai pas vraiment formulé les problématiques (je vous promets que ce sera intéressant quand même, restez avec moi).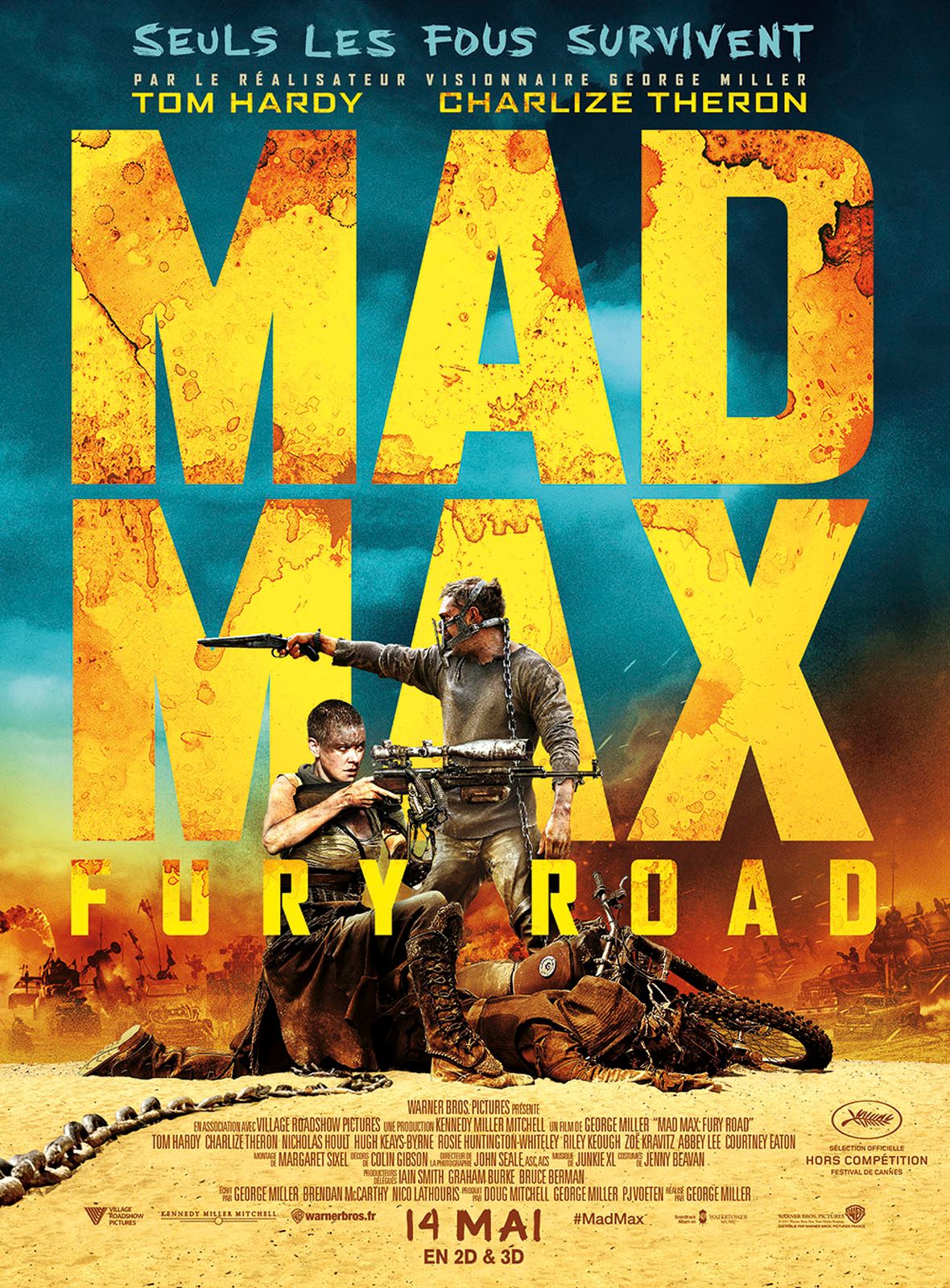 C'est l'histoire de moi dans une salle de cinéma, juste avant que ne soit projeté
Age of Ultron
, face à la bande annonce de
Mad Max: Fury Road
sur fond de "Dies Irae". Les yeux scintillants, je me tourne vers ma comparse et décrète: "Ça a l'air DÉBILE, je vais aller le voir EN COURANT, je vais CAMPER DEVANT LA SALLE en attendant que ça sorte!!!" Je suis suis fan inconditionnelle (et fine connaisseuse) de films d'action des années 80-90, et de grandes fresques de série B (Riddick je t'aime), ce film a l'air déjà taillé pour moi. Et après la séance, il s'est finalement avéré que le meilleur moment de
Avengers: Age of Ultron
pour moi a été la bande-annonce de
Mad Max: Fury Road
.
C'est l'histoire d'un hold-up cinématographique par un papy australien à moitié cinglé, qui a aussi réalisé un des meilleurs films d'animation au monde (ceux qui disent que
Happy Feet
n'a rien à voir thématiquement avec
Mad Max
n'ont pas vraiment vu
Happy Feet
. C'est peut-être un post pour une autre fois, mais
Happy Feet
est une comédie musicale avec des pingouins, mais aussi un film de science-fiction, une odyssée épique, et une fable écolo, avec des beaux mouvements de caméra maîtrisés qui trahissent le vrai bon réalisateur derrière -- et pas juste un enchaînement de plans caméra fixes dans lesquels des bestioles hystériques qui parlent ne font que s'agiter, à la
Madagascar
).
C'est l'histoire d'un chef-d'œuvre, mais aussi d'une impossibilité. C'est l'histoire d'un genre qui se meurt, de Hollywood qui fait constamment de la merde avec son pillage nostalgique et sa course à la licence, et d'un renouveau au singulier, qui ne changera sans doute pas la donne et qui nous rappelle surtout ce qu'on a perdu. Ou peut-être est-ce effectivement une pousse verte porteuse d'espoir dans un grand désert radioactif et stérile. Allez savoir.
C'est l'histoire d'un personnage féminin, héroïne d'un film d'action post-apo, chose tristement inimaginable de nos jours, planquée en scred sous une grosse licence avec un nom d'homme.
C'est l'histoire de quelques crétins misogynes sur Internet, qui se plaignent justement de la trop grande "féminisation", à leur goût, du film de dudebros qu'ils attendaient, alors que le film n'est même pas encore sorti. L'info est relayée et fait tache d'huile, et voilà que des femmes qui n'avaient aucune intention d'aller voir
Mad Max
s'y intéressent soudain. Puis c'est l'histoire d'interminables articles et débats sur internet occultant presque la qualité du film en lui-même, oui
Mad Max
est féministe, non
Mad Max
n'est pas féministe,
Mad Max
est un peu féministe mais pas trop, si, non, on s'en fout.
Enfin, c'est l'histoire de moi, encore, de retour dans une salle obscure, nerveuse comme jamais, m'attendant à tout moment à être déçue, et d'une déception qui n'arrive miraculeusement pas. Moi qui m'en prends plein la tête, avec de vraies belles explosions même que j'avais oublié comment ça faisait, moi qui avais failli annuler mon abonnement à la carte UGC tellement 2014 avait été vide en bons films et qui ne croyais plus du tout au cinéma. Moi, à nouveau cinéphile, les larmes aux yeux quand a défilé le générique de fin.
Je ne vais pas recommencer ici toute la discussion sur
Mad Max
et le féminisme, je trouve qu'il y a eu déjà suffisamment d'encre qui a coulé sur le sujet (ceci dit, si ça vous intéresse quand même ou que vous êtes passées à côté je vous mettrais quelques liens d'articles dessus que j'ai trouvés intéressants à la fin de ce post), j'aimerais plutôt qu'on discute, si vous le voulez bien, de pourquoi
Mad Max
est ressorti à ce point dans le paysage filmique cette année.
( GONNA DIE HISTORIC ON THE FURY ROAD )
(dessin de
modokiblack
)